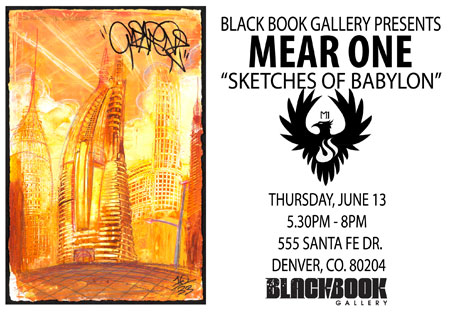 Denver, CO – May 30, 2013 – Los Angeles based artist MEAR ONE begins a weeklong stint in Colorado on June 10th. Internationally hailed as "The Michelangelo of Graffiti" and "The Salvador Dali of Hip-Hop", MEAR ONE begins his time in Denver with a 3-day mural painting at Izakaya Den (South 1518 Pearl St.) June 10th – 12th. Following this will be a gallery show at Black Book Gallery (555 Santa Fe Dr.) from 5:30 – 8 pm on June 13th. This week of activities culminates on Friday, June 14th with MEAR ONE joining DeVotchKa and the Colorado Symphony on stage for live painting under the stars of Red Rocks.

Gallery Exhibit
We will have 11 framed 'Mono Distortions' on display and for sale. Images coming soon
'Mono Distortions' are an entirely unique creation of Mear's, an invention by the artist that displays hand-painted repetitions of like pieces resulting in one-off paintings. Essentially, Mear becomes a human printer! In the artist's own words:
"Several years ago I was pondering my Live Art juxtaposed with my print work and wanted to find a bridge. I experimented and came up with the Mono Distortion and called it "M1" and it was a phoenix on top of a distressed hand done buff job like walls on the streets. I added a lot of sketch work and juicy tags with thick oil base Dalo Markers. The end result was like nothing I've ever done and I felt altered from the experience.
My philosophy on the distortions is as we head into these easy times to create art from photoshopping internet flicks, learning graffiti in an art school, that there seems to be a lax attitude in things that take time or effort, things that mean something other than compensation or simple fame. My endeavor would consist as a challenge to myself to re-create my relationship to art and my relationship to the experience of doing it. I pull from my live painting experiences styles that I developed through hundreds of live art nights.
'Sketches Of Babylon' is a pictorial montage of the deterioration of the Western World, post-apocalyptic cityscape under destruction or construction. A void space full of emptiness and history, a place of ideas and dreams."

In addition to being able to see MEAR ONE's work in an intimate setting at Black Book Gallery (MEAR ONE's first ever showing in Denver), fans will be able to pick up an exclusive screen-print of DeVotchKa's Red Rocks show poster, designed by MEAR ONE. These posters, printed on foil paper, will be hand numbered and signed by both MEAR ONE and DeVotchKa. They are extremely limited, and will only be available at Black Book on June 13th.
MEAR ONE will then join DeVotchKa on-stage for their performance at Red Rocks Amphitheatre on June 14th. Come see MEAR ONE live paint to the eclectic style of DeVotchKa, and the punk cabaret sounds of Amanda Palmer, along with a full 60-piece orchestra. Also appearing will be local favorites Paper Bird. Tickets are on-sale now and start at $25. They are available online, by phone, 303-623-7876, or in person at the Box Office in Boettcher Concert Hall, Monday through Saturday, 10 am-6 pm.
About MEAR ONE
MEAR ONE (Kalen Ockerman, b. 1971, Santa Cruz, CA) is a contemporary American artist and public muralist based in Los Angeles.
MEAR ONE began his career in 1986 as a graffiti artist living in Los Angeles, often hailed internationally as "The Michelangelo of Graffiti" and "The Salvador Dali of Hip-Hop." He is considered by many to be Los Angeles' most prolific artist because of the way he revolutionized graffiti with his fine-art realism, breaking out of traditional 2D letter forms, and using perspective to develop complex characters with dynamic backgrounds in epic scale.
By the early 1990's, MEAR ONE had established a large fan base through his notorious work on the streets, underground hip-hop album covers featuring his iconic imagery, and his involvement in pioneering early street wear clothing and graffiti culture. In 1993, MEAR ONE was the first graffiti artist from Los Angeles invited by writers in Tokyo, Japan, to paint in front of a live public audience at the height of the graffiti movement in East Asia.
In the mid-90's, hip-hop imagery and cultural icons in his work were replaced with a deeper, more introspective conversation based around a politically disillusioned reality that the artist felt hip-hop had ceased to address. At this point, MEAR ONE began his transition from street graffiti to works on canvas, resulting in his first and much lauded body of acrylic and airbrushed paintings. He continued developing his original style throughout the 90's, and in 1996 coined the term "Live Art" to describe the spontaneous, performative, and interactive act of painting in front of a live audience, which he considered akin to freestyle poetry and music.
Over the next two decades of his career, MEAR ONE's public murals and works on canvas have won over audiences locally, nationally, and internationally. His work is inspired by ancient technology, science, philosophy, mythology and mysticism, along with political and cultural revolution, and notions of the apocalypse. Using art as a tool to express his feelings of frustration with what he feels is a broken system, the artist uses visual language to provide a critical viewpoint that exposes the history of corruption in America and the world at large. The diversity in his work often depicts an experience of transcendence in sharp contrast with depictions of the horrors of humanity, war, and oppression.
MEAR ONE's current body of work can be described as a series of allegorical oil paintings that draw upon history, mythology, political theory, conspiracy theory, modern myths, and current events. Stylistically he has been described as "urban psychedelic surreal," and is perhaps best known for his climactic battle scenes taking place under broad expansive cityscapes with billowing cumulous clouds.
About DeVotchKa
For more than a decade, DeVotchKa has been melting its sweeping collection of influences into an authentic and totally original blend of rock 'n' roll. Like many bands, DeVotchKa spent much of their early years traveling the highways and byways. One day world-renowned KCRW DJ Nic Harcourt introduced LA listeners to DeVotchKa on his daily radio show, Morning Becomes Eclectic. The directors of "Little Miss Sunshine" happened to be listening this fateful day, loved what they heard, and hired the band to write the score for their film. A critical and box office smash, the film was nominated for the Best Picture Oscar and, for DeVotchKa's soundtrack, a Grammy®. The little band from Denver was suddenly internationally admired, headlining large venues and performing at practically every major music festival, from Coachella to Lollapalooza. The love spread to Europe, which has become a regular destination for the band. For more information on DeVotchKa, please visit www.devotchka.net
About the Colorado Symphony
The region's only full-time professional orchestra, the Colorado Symphony embraces a tradition of musical excellence by presenting a diverse array of symphonic performances throughout the year. Originally established in 1989 as the successor to the Denver Symphony, the Colorado Symphony thrives on a spirit of collaboration among musicians, staff, trustees and the community. The Colorado Symphony performs in Boettcher Concert Hall and On Location throughout the state and region utilizing small ensembles to the full-sized orchestra. Programs include expanded education and outreach initiatives, as well as Masterworks, Pops, Holiday, Family, Inside the Score and Symphony on the Rocks series that have attracted an ever-increasing level of concertgoers. By presenting music that is both timeless and inspiring, while taking risks with new musical collaborations and interactive concerts, the Colorado Symphony is committed to reaching global audiences with the use of state-of-the-art digital media via live streaming and concert downloads. www.coloradosymphony.org
For additional information regarding MEAR ONE, please contact:
Candice Lee at Candice@cl-projects.com
For additional information regarding DeVotchKa, please contact:
Rob Thomas at rt@enditmanagement.com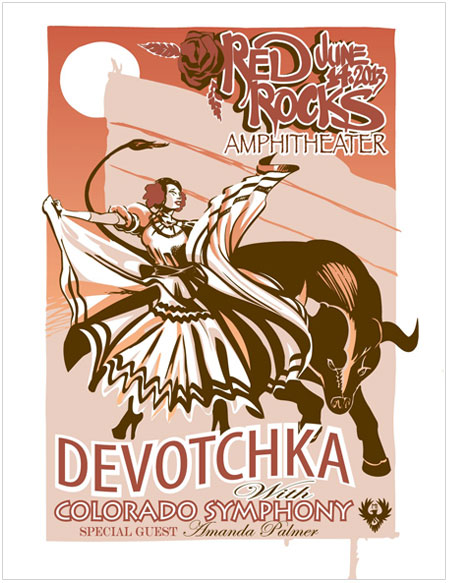 Mear One
Devotchka with The Colorado Symphony and special guest Amanda Palmer at Red Rocks
Regular Edition
Signed by Mear One
Available at concert