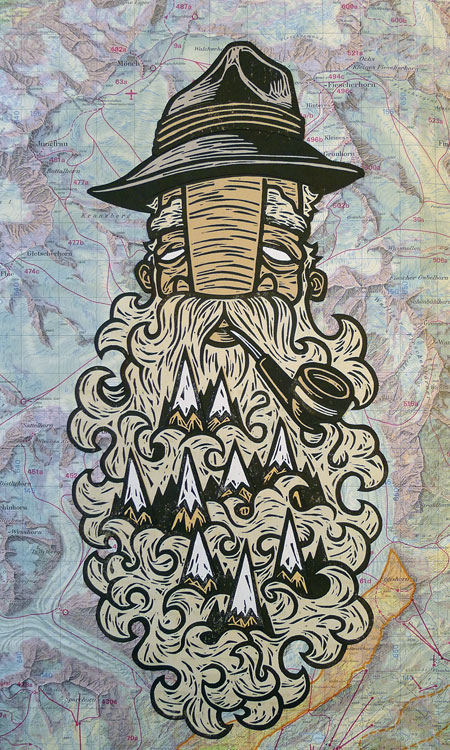 John Fellows
Every Here Has A There
AVAILABLE ARTWORK
http://www.theblackbookgallery.com/artists/john-fellows/
Black Book Gallery is pleased to announce "Every Here Has A There", new works by Colorado-based artist John Fellows, in what will be his second solo exhibition at the gallery. Fellows' signature "contemporary folk" style weaves together layers of found paper, graphic block prints and handwritten text to create an old time, hands-on feel. The artist collects a variety of found paper, maps and books dating from the 1880's to the present to create unique linoleum carving collages that while at the very base reflect his personal experiences, are more like a brief glimpse into another person's story.
For this new body of work, John once again draws inspiration from his recent travels to the Swiss and French Alps, Sayulita and Baja, Mexico as well as the mountains of his home state of Colorado. Grizzled mountain men, salty sailors, stormy seas and rugged mountains layered on used nautical charts and topographic maps draw the viewer in and hopefully trigger memories of their own past travels and experiences.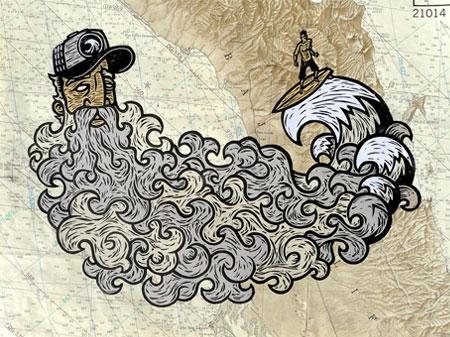 John Fellows currently lives and works in Denver, Colorado. He travels constantly and spends much of his time in the outdoors, both of which impact his work. John has shown work in Japan, Australia, New Zealand, The Netherlands, and around the US. Recently his worked has been used on t-shirts for Element Skateboards, Vail Resorts and Shaun White for Target, wine labels, and featured on the cover of BombFlow magazine.